KathyP53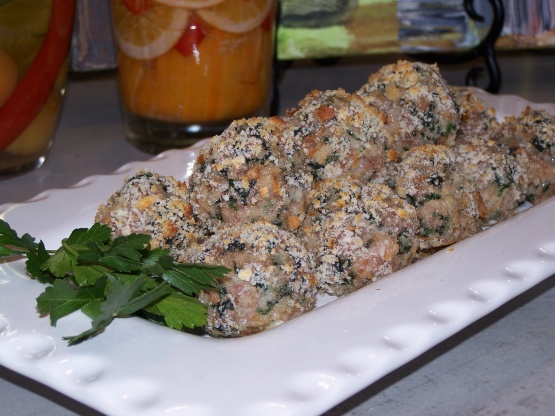 I LOVE this recipe! These are the most fantastic meatballs ever. They don't need sauce (but are great with it). From my hero, Alton Brown.

These are a fav at our house - just like AB. :) The only change I've had to make to this recipe is omitting the lamb, and increasing the ground round to 1 pound. Lamb is not readily available in my grocery store. Only at Easter, not ground, just small packages of chops. I highly urge not to skip using the mini muffin tin. It keeps your meatballs out of the fat that cooks out, and the meatballs retain a lovely texture after being coated in breadcrumbs all over. Thanks for posting!
Preheat the oven to 400 degrees.
In a large mixing bowl, combine pork, lamb, ground round, spinach, cheese, egg, basil, parsley, garlic powder, salt, red pepper flakes, and 1/4 cup of bread crumbs. Using hands, mix all ingredients until well incorporated, but do not overmix or meatballs will be tough. Refrigerate overnite.
Place remaining 1/4 cup of bread (you'll need more than this)in a small bowl. Weigh meatballs into 1.5 oz. portions and place on a sheet pan. Using hands, shape meatballs into rounds, roll in bread crumbs and place balls in individual miniature muffin tin cups (I used disposable aluminum ones). Bake for 20 minutes or until golden and cooked through.