Baked Manicotti With Meat Sauce
CabinKat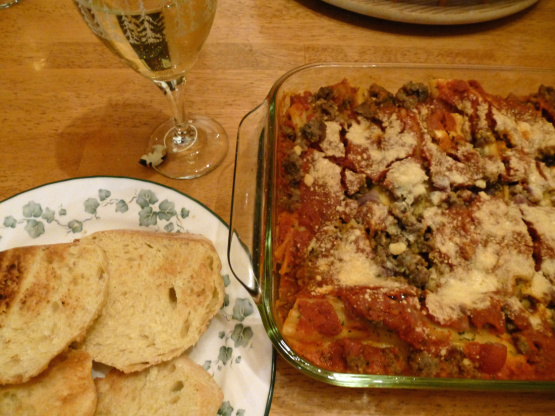 I think this originally came in Women's Day magazine, back when they had a skinny 6 or 8 page cookbook, in a strip, in the center of the magazine. I started making this as a newly wed, and it is still a family favorite. I usually double the recipe and freeze at least 1/2 of the stuffed noodles, since that is the most time consuming part. Serve with a sald and garlic bread, and a good bottle of red wine !

This is totally awesome!!! I could not get manicotti anywhere so I bought fresh cannelloni sheets instead, I know there is a difference with manicotti, but they are very close so I hope you don't mind. I also could not get Italian sausage unless I bought it already made up as sausages and squeezed out the meat which would have been terribly expensive, so I took the liberty of buying a pork, veal mince and adding Italian herbs and extra spices to create something similar. I did follow everything else the same and I am sure it did not change your excellent recipe too much. I too like other reviewers used my own homemade tomato sauce. I made a little extra instead of 16 manicotti shells I made 24 cannelloni shells I upped the ingredients accordingly. I still made up the extra shells and cooked the extra meat and then froze that half of the mix to make it a very quick assembly meal for our next time. My family was very glad when I told them I would be making this again in the next couple of weeks. This truly is a wonderful recipe NurseJaney, a definite keeper for us. Thanks for sharing!!!!
Make filling by mixing first 8ingredients and 1 cup parmesan cheese.
Blend thoroughly.
Cook meat with garlic and onions
Sprinkle with salt and drain grease.
Stuff cooked noodles (gently) with filling.
Butter 12x15 baking dish.
Spoon tomato sauce in bottom of dish to cover.
Place stuffed shells in dish to completely fill.
Sprinkle meat over and around shells.
Spoon tomato sauce over shells generously.
Sprinke with 1/2 cup parmesan.
Cover with foil.
Bake at 350°F for 45 minutes.