Baked Macaroni & Cheese W/ Breadcrumb Topping
Mike P.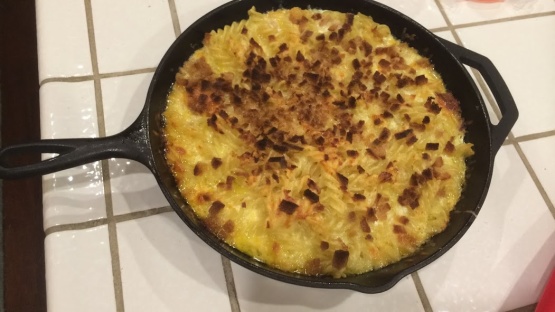 Homemade Macaroni & Cheese with a delicious breadcrumb topping!!

I call this "Daddy mac and cheese" because it's so easy even I can do it. ;-) The kids love it! And now that I know this recipe, the box kind just doesn't cut it any more. I grease the pan with garlic olive oil and leave out the butter. And slice up a couple slices of whole wheat bread for the breadcrumbs. And use a large cast iron pan. (it's heavy)
Preheat Oven to 350 degrees.
Shred the two cheeses into two different bowls.
Prepare elbow macaroni as directed on box. Drain and set aside for a moment.
Grease entire surface of your 9"x 13" baking pan generously with butter.
Start Preparation by covering the bottom of the dish with half of the cooked elbow macaroni.
Cut 2 TBSP of butter into small pieces (like a pat of butter) and spread them over the macaroni evenly.
Add a layer of half of the Cheddar Cheese, then half of the Monterey Jack or Mild Cheddar Cheese.
Add the other half of the elbow macaroni, THEN 2 more TBSP of butter cut into small pieces and spread out evenly.
Add the other half of both cheeses.
Add the 2 Cups of milk.
FINALLY -- Sprinkle the breadcrumbs lightly in a thin layer over top of the whole dish (you may use more or less than my recipe calls for).
Put in oven at 350 degrees for about 45 minutes, or until lightly browned
ENJOY!