Baked Macaroni and Cheese With Tomatoes
Parsley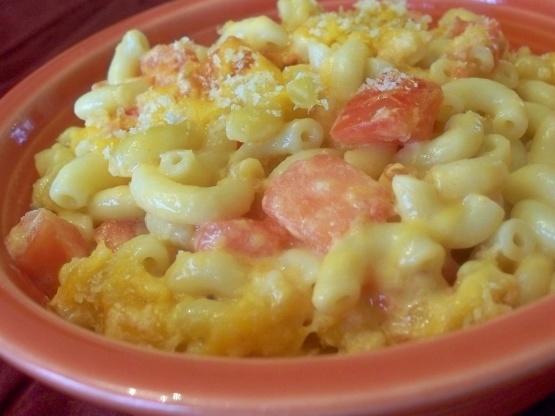 The use of lowfat milk in this recipe makes it a lot healthier than the standard variety. The recipe only uses about half the box of macaroni, but you can make the whole box if anyone in your family prefers plain pasta. Serve it with a carrot and apple salad with pecans.
Cook the macaroni according to the package directions and drain.
Preheat oven to 350 degrees.
Spray a large (2 quart) casserole with nonstick cooking spray.
In a large microwave-safe bowl, combine the macaroni with the butter, beaten egg, and 1 3/4 cups of cheese. Stir it thoroughly.
Place the macaroni mixture in the microwave oven on high for about 2 minutes to melt the cheese more thoroughly. Mix it well.
Add the milk, salt, mustard and tomatoes to the macaroni and toss.
Pour the mixture into the casserole and smooth the top with a spatula.
Sprinkle it with the remaining cheese and bread crumbs and bake it, uncovered, for 40-45 minutes, or until it is set.
(Meanwhile, prepare a salad, if you are serving it.)
Serve it immediately, refrigerate it for up to 24 hours, or freeze it for up to 3 months.