Baked Macaroni and Cheese With Meatballs
Parsley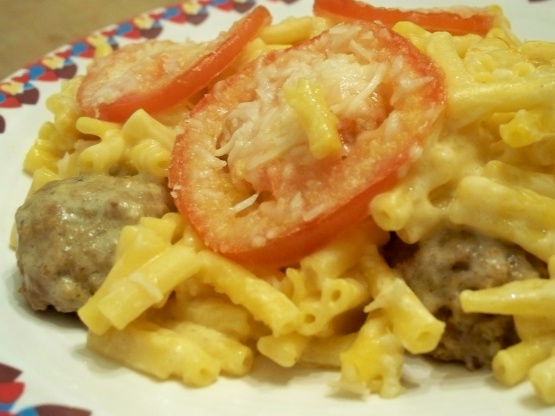 When our boys were young, a very long time ago, I would let them choose a meal whenever my husband and I were going out for dinner. Their all time favourite was Kraft mac and cheese. This is the stay at home, family supper version.

I followed the recipe exactly except I couldn't find Frozen italian meatballs so I used Turkey Meatballs instead. Maybe the Italian spices would have added something to the macaroni and cheese, otherwise, this dish was a little bland. The few tomato slices we had on top really helped it, so maybe next time I will add a can of diced tomatoes. It is a very good recipe, I just think it needs to be tweaked to my family's tastes. Thanks for the recipe Lorac!
1

lb frozen cooked italian meatballs

2

(7 1/4 ounce) boxes macaroni & cheese dinner mix (I use Kraft)
1 1⁄2-2 cups milk

8

ounces sour cream

2

medium tomatoes, thinly sliced

2 -3

tablespoons grated parmesan cheese
Preheat oven to 350°.
Place meatballs on a foil lined baking sheet and bake 15-20 minutes or according to package directions.
Cook macaroni according to package directions, drain.
Add milk, cheese sauce packets and sour cream, stir to combine.
Place meatballs in the bottom of an oven proof casserole, top with macaroni, cover with tomato slices sprinkled with parmesan.
Bake uncovered 25-30 minutes.