Baked Macaroni and Cheese With Bacon
cojeff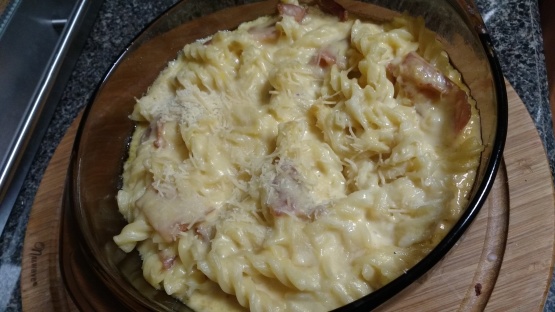 Out of all the baked pasta dishes I make my family likes this one the best. It's also very filling, and fairly inexpensive to make.

Top Review by cojeff
THIS is THE recipe I've been looking for! I've been trying to copy a local restaurant version of this dish, even the screwy noodles, and tonight, I did it to a T. I went for the parmesan version on top. It didn't brown like I hoped, next time I'll use fresh grated parm. Thank you for posting pmayo26, I'll make it again and again!!
Cook macaroni according to box directions and set aside.
In a medium saucepan melt butter over low heat. Add flour and stir constantly until smooth.
Turn heat to medium and add milk stirring constantly until thick. (About 10 minutes).
Add hot sauce. Stir until mixed in evenly.
Add pasta, bacon and cheese. Mix until cheese melts, bacon is mixed in, and pasta is evenly coated.
Pour macaroni and cheese into a 9x13 baking dish and top according to taste.
Bake in preheated oven at 350 degrees for about 25-30 minutes. (If using parmesan cheese and breadcrumbs take it out when the top looks lightly browned. If using cheddar cheese topping take out when top becomes darkened, but not burnt.).