Baked Macaroni and Cheese - Deen Bros.
Parsley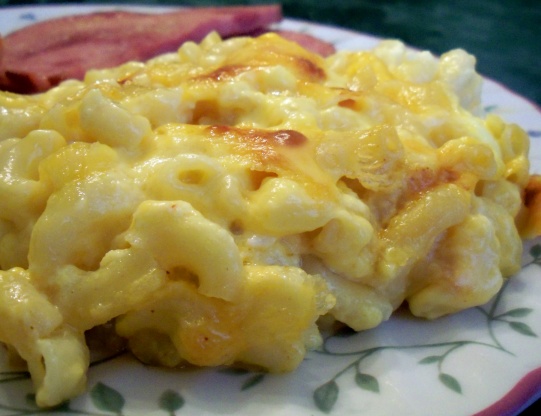 This is from THE DEEN BROS. cookbook. They use two kinds of cheeses, milk and sour cream that makes it very creamy.
Preheat oven to 350 degrees F. Grease a 9x13-inch baking dish; set aside. In saucepan, cook macaroni according to package directions; drain. Return macaroni to saucepan.
While macaroni is hot, add the cheeses to the pan; stir well. Spread the macaroni mixture in the prepared baking dish. In a bowl, whisk together the milk, sour cream, eggs, butter, hot sauce, and salt. Pour the milk mixture over the macaroni.
Bake for 35 to 40 minutes or until golden brown and bubbling. Let stand for 10 minutes before serving.