Baked Macaroni and Cheese
Prep 20 mins
Cook 20 mins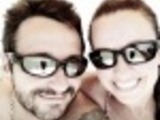 Tasty and quick way to make mac and cheese!
1 can condensed cheddar cheese soup
1⁄2 can milk
1⁄8 teaspoon pepper
2 cups hot, cooked corkscrew macaroni (, , about 1 1/2 cups uncooked)
1 tablespoon dry breadcrumbs
2 teaspoons butter, melter
Directions
In 1 quart casserole dish mix soup, milk, pepper, and macaroni.
mix bread crumbs with butter and sprinkle over macaroni mixture.
Bake at 400F for 20 minutes or until hot.
Reviews
Most Helpful
Great alternative to traditional baked mac&cheese, which takes much longer. Added the shredded cheddar like the other reviewer recommended, definitely made it better. Also doubled the recipe, seemed to turn out find! Next time, I might try adding dry mustard to get that more traditional baked mac&cheese taste!

I tried this as written, and it was pretty good. But the next time I tried adding some shredded cheddar [about half a cup] and it was even better. I also added a little salsa, and that was also good.