dojemi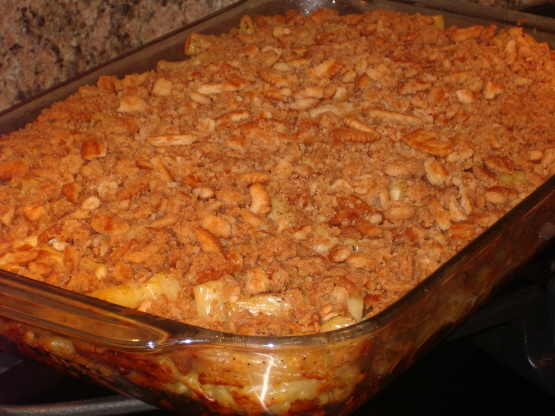 I suggested using a glass dish because you can see how brown the casserole is getting (and brown is a good thing). My family loves the crispy sides and topping.

I make this often, and come back to get the recipe every holiday.
1

(16 ounce) box ziti pasta, cook per directions

1

(16 ounce) box Velveeta cheese, cut in chunks
1⁄2 cup butter (divided 1/4 cup and 1/4 cup)

3

tablespoons flour
1 1⁄2 cups milk or 1 1⁄2 cups nonfat milk
salt and pepper, to taste
Ritz cracker
butter (to be mixed with the Ritz crackers)
Mix together the flour, 1/4 cup butter and the milk.
Add cheese chunks and allow to melt (continually stirring and watching so cheese does not burn).
Add the salt and pepper.
Combine the ziti and cheese sauce.
Put into casserole dish (I use glass) which has been well buttered with the remaining 1/4 stick of butter (use it all).
Mix Ritz with enough butter to moisten the crackers (amount is entirely up to you, but make enough to cover the casserole completely) The more the better.
Bake@ 350 degrees for approximately1 hour.
Serve immediately.