Bergy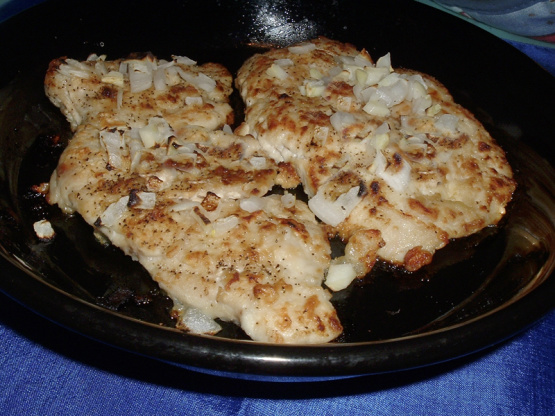 I haven't tried this dish yet, but it looks SOO yummy. It says to cook for 1 hour, but i would test the meat for total doneness. Prep time includes marinating overnight.

Top Review by Bergy
I served this to a friend that is a very picky eater when it comes to fish, meat or chicken - she loved this recipe, After pounding and dreging the chicken in flour I pan browned it on both sides then finished the chicken in the oven drizzling it with the lemon/onion/garlic sauce. Result -excellent moist tender chicken with a great flavor Thanks FireRose
Bone and pound the chicken breasts.
Dredge with flour.
Melt the butter in a baking pan.
Coat chicken on all sides, turning skin side up if not boneless.
Bake at 375 degrees, brushing with pan drippings for 30 minutes.
Meanwhile, make the lemon baste, where you mix 1/3 cup lemon juice, minced onion, garlic and salt and pepper.
Brush chicken with part of the baste, and bake, brushing with the remaining baste for 30 minutes longer or until done.
Serve with rice and a vegetable.