Baked Jalapeno Bacon Poppers
alligirl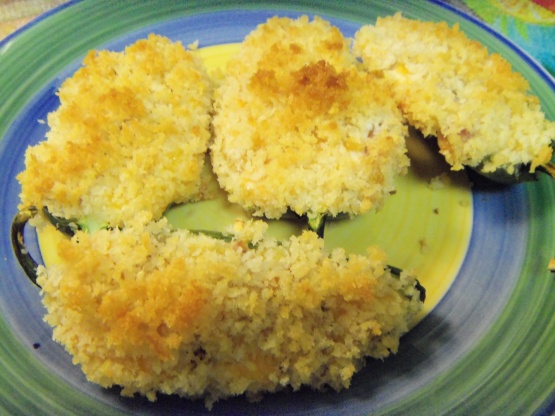 I couldn't find my usual popper recipe, but I found this one that seemed pretty similar. We were very pleased with the results. I used some jalapenos from the garden and we loved them! The filling keeps well in the refrigerator and even freezes fine, so now that the hard part is done, we will be enjoying more jalapeno poppers when the next jalapeno harvest comes in!
1. Preheat oven to 375°F Slice each sweet pepper in half lengthwise. Use your spoon to scoop out any seeds and some of the rib to make a nice, clean boat.
2. Cook bacon to crisp (you can use a microwave - place bacon between paper towels, microwave 3-4 minutes or until crisp). Mince cooked bacon. In a bowl, mix together the bacon, cream cheese, cheddar cheese and Cajun seasoning. Spoon cheese mixture into each sweet pepper.
3. Melt butter in microwave, stir in the bread crumbs. Hold each popper and dip cheese side down into bread crumbs. Bake 375F for 20 minutes or until cheese melty and bread crumbs crusty.