Baked Italian Potato Wedges
Kim127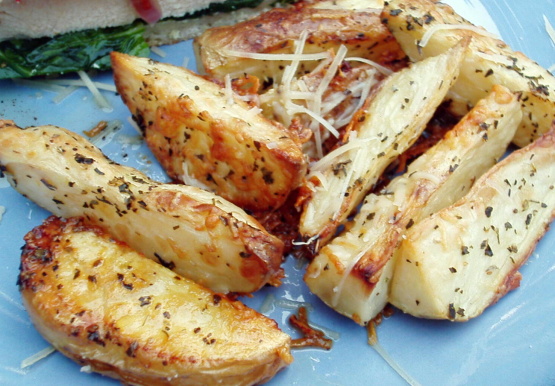 These were an experiment I did for tonight's meal and I think they turned out pretty well. They aren't out and out low fat but the only fat used is extra virgin olive oil so it is a good fat and a little bit of fresh Parmesan cheese and you could use the reduced fat version of that if desired. So, far better than deep fried French fries.

Nicely seasoned, it was really really delicious!! This meal is a favorite comfort food and it's easy to make. I can add anything of my like. I added Crazy Salt and garlic powder a little more. YUMMY!! My whole family enjoyed it more than expected! And my family voted it a KEEPER!! Thanks for a wonderful recipe!
Preheat the oven to 425 degrees.
Cut each potato in half length wise and then quarter each half to make potato edges.
Arrange the wedges on a baking tray with the skin side down.
In a bowl mix together the oil, herbs and garlic salt.
Brush the oil mixture onto each potato wedge.
Sprinkle the grated cheese over the wedges.
Put in the oven and bake for about 25 to 35 minutes or until done depending on the thickness of your wedges.
Serve.