Baked Italian Mashed Potato Casserole
ImPat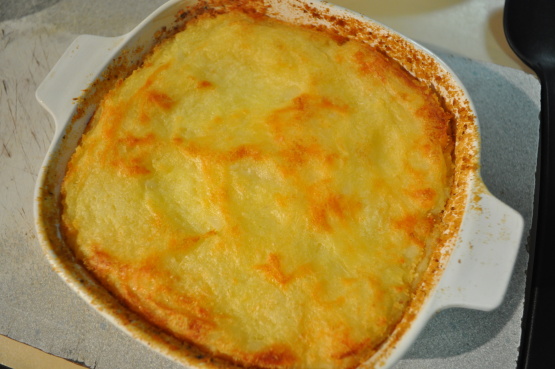 These mashed potatoes are made extra yummy by adding garlic and mozzarella and Parmesan cheeses. Recipe can be prepared and refrigerated until serving time. Just increase cooking time to be sure casserole is heated through.

Top Review by ImPat
I scaled this back for 3 serves and still have one serve left over (the DM has claimed it for breakfast as a potato cake). The only changes besides serving size was I used grated light mozzarella that I had left over from another recipe and I loved the crusty crumbs on the side and would like to duplicate it on the top, maybe with fine fresh breadcrumbs mixed with some extra cheese. The other was as I had some roasted garlic pulp left from a previous recipe I used that to mix in with to potatoes rather than boiling fresh cloves with the potatoes. Thank you Marie for a great recipe, made for Bargain Basement.
Boil potatoes with garlic until tender and drain.
Mash potatoes and garlic together and add 6 tablespoons of the butter and then add the milk.
Mash until potatoes are smooth.
Add salt and pepper to taste.
Add mozzarella and Parmesan cheeses.
Stir to blend.
Use 1 tablespoon of the remaining butter to grease the bottom and sides of a casserole dish.
Coat the bottom and sides with breadcrumbs.
Spoon potato mixture into the dish and dot the top with the remaining tablespoon of butter.
Bake at 350° for about 15 minutes or until the top is golden brown.