ImPat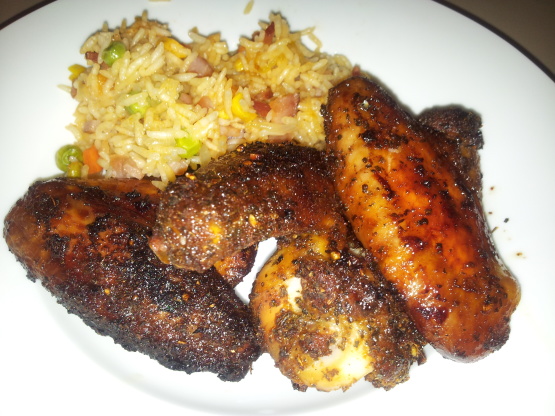 Bake chicken wing without frying.

Fantastic! Made as directed, except for baking time, and wouldn't change a thing. I took my wings out after 35 minutes as they seemed done. But maybe leaving them in for 45 minutes, as directed, would have made them crisper? I also made the mistake of eating with a salad with Chipotle Ranch dressing, and between the two, a little too spicy for me. My bad. Next time I will use plain ranch. But there will definitely be a next time!
In a bowl combine all of the dry ingredients and set aside until needed.
Cut off the wings tips and halves the wing and drum. Place the wings and drum into a large mixing bowl and coat with the oil. Mix well and add all of the seasoning and blend into the chicken wings. Let the mixture set in refrigerate overnight.
Preheat oven 375°.
Place the wings onto a baking pan and bake for 45 minutes.
Serve with ranch dressing.