teresas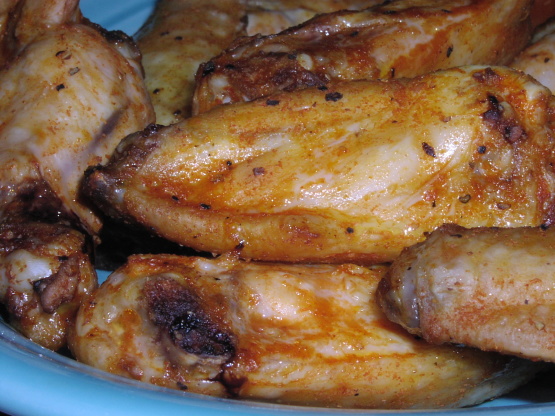 I was looking to find a recipe that was not overpoweringly spicy, somewhat healthy and less messy than wings doused in sauce. This is what I came up with. Once cooked, the wings can be put in a crock pot and they get more tender and flavorful the longer they are in there, but they start to fall off the bone and are messier.

We enjoyed the flavor of these wings...they taste just like the ones you get at your local bar...I cooked them for the amount stated on the recipe and they were still raw on the inside...I would suggest cooking them for an additional 15 to 20 minutes. Made for My 3 Chef's tag game.
Remove the excess skin from the wings.
Bake at 350 for 25 minutes, or until fully cooked, on a rack to allow the grease to drip off.
Cool completely.
Combine all the other ingredients.
Completely cover the wings or toss in the sauce.
Marinate in the sauce at least 2 hours (preferably overnight).
Bake at 350 for 15 minutes on a rack.
Wings can be coated again in the sauce or served as they are.