MsSally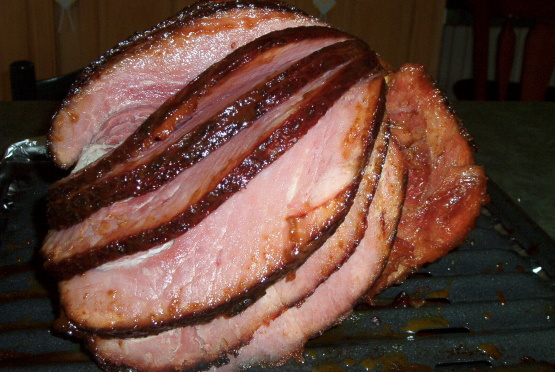 Ham is one of the traditional meat dishes served in Trinidadian homes at Christmas time. Many people I know bake it on Christmas Eve and have it for breakfast with freshly baked bread and a condiment called Chow Chow (Picalli Sauce). You are also likely to be served thick slices of ham with Christmas meat pies known as Pastelles. This recipe is simplicity itself and it's how I bake my ham every year. Enjoy!
Place ham, skin side up, in a roasting pan and bake coverd at 325 degrees for 20 minutes per pound. Add 20 minutes extra. (In this case, 2 hours).
Remove ham from the oven. Score fat in diamond shapes. Use a knife to stick the cloves in all over the ham.
Combine honey, mustard and orange juice and spread over the ham.
Return to the oven and continue to bake uncovered for 20 - 30 minutes more, basting occasionally with the glaze.