Prep 15 mins
Cook 1 hr 20 mins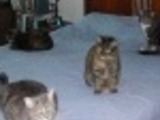 The taste and texture of this dish is subtle and unusual but my BF and I think it's absolutely delicious. My apologies if you haven't found this as appealing as we do. The recipe comes from a fantastic cookbook of the midwestern region (of the U.S.) called "Hollyhocks and Radishes." The original ingredients call for 2 cups cream instead of milk and twice the butter, so if you don't mind the extra fat, go ahead. I also like to add more horseradish, at least 1 tablespoon. In my area hominy can be found in the mexican foods section of the supermarket.
Directions
Preheat oven to 300 degrees.
Melt butter in large saucepan over medium heat.
Whisk in flour and continue cooking for 1 minute.
Slowly pour in milk, mixing constantly with whisk, until sauce thickens.
Add horseradish, salt and pepper to taste.
Add hominy, stir, and pour into lightly sprayed 2 quart casserole.
Sprinkle with parmesan cheese.
Cover and cook for 1 hour 20 minutes or until hot and bubbly.
Reviews
Most Helpful
this was JUST what I was looking for!! I planned to just simply simmer my hominy on the stove top, add some cheese, and settle for a bland dish. The only two ways in which I derived from the exact recipe were that A) i halfed it. i was short on milk (i used 2%, with great results) and had only one can of hominy, so i halved the recipe (EASILY!), and B) i added faaaaaaar more cheese (a random mix of what i had on hand: shredded swiss, shredded jack, and shredded parm .. no exact measurements taken) .. and added a garlic/onion/herb blend seasoning.
i baked it for half the time, and whilst it came out delicious, rich, and velvety .. it could have probably used an extra ten minutes in the oven. thank you so much for hitting my cheesey hominy spot!!

I had some hominy left over from another dish that I wanted to use and choose this recipe. It looked simple and it was. I used cornstarch instead of flour and put more cheese in the sauce.It was a wonderful substitute for mac & cheese. Yummy wheat free comfort food.
SOooo very "hominy-yumminy"!!! - I came across this recipe by one of my teammates while playing the ZWT3 Game & had my eye on it for quite some time, but was unable to find canned hominy at my local grocery store until I moved to a more upbeat section!! This dish is everything a comfort food casserole should be!! It smells divine while baking and takes no time what so ever to whip up. I did the butter and low-fat milk as suggested and found the mixture to be plenty rich. I initially put 2 teaspoons of horseradish in, but after a taste test decided to add more - eventually ending up finishing what I had left in my bottle which amounted to just over a tablespoon total (don't fear the horseradish, it melts into the creamy mixture leaving a lovely, slightly warm kick behind it - not at all overpowering!!!) I used the parmesan cheese and a mix of sea salt, coarse pepper & my "secret casserole ingredient" - a sprinkle of ground popcorn (!!!) - these nicely crusted the top. This was wonderful right from the oven and like any good casserole dish was de-lish reheated another day. One little trick I did (on reheating a small bowl for just myself in the microwave) was to melt a thinly sliced piece of a horseradish flavored white cheddar over the top - just a way to make leftovers more interesting and to add an extra treat for me. I could see the versatility in this dish, as one reviewer suggested adding some chopped pepper or onion might be interesting sometimes, but when the creaminess of comfort food (in the tradition of MAC & cheese or mashed potatoes) is the desired goal this is the way to do it. A wonderful recipe and now that I found hominy again I will be making this regularly, especially in the fall and winter months! Thank you, Kumquat the Cat's Friend for sharing your delicious treat!!!