Baked Homemade Granola (Lower Fat)
Redsie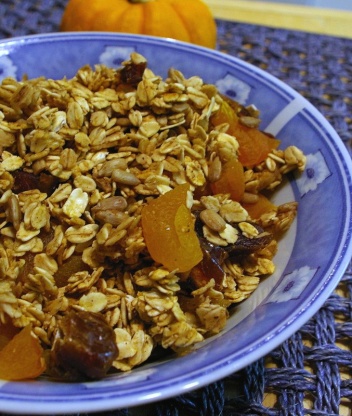 By making your own granola you can reduce the fat and increase the richness of nuts and seeds. This is great alone as a snack or on top of yogurt or anything! For the mixed nuts and seeds you can use all or a mixture of slivered almonds, coarsley chopped walnuts, pumpkin seeds, sunflower seeds and sesame seeds.
Set oven to 300 degrees.
Place oven rack to center position.
Lightly oil two large baking sheets.
In a large bowl stir together oats with nuts, seeds and spices.
In a small bowl stir together the warm water with maple syrup and vanilla.
Slowly pour the syrup mixture over the nut mixture; stir with a wooden spoon to combine.
Spread out on the greased baking sheet/s.
Bake (center oven rack) for about 30 minutes, stirring every 10 minutes to prevent burning, until granola is crumbly and golden.
Remove from oven and immediately stir in the raisins and apricots.
When the mixture is cool, store in an airtight container for up to 5 days or refrigerate for 1 month.
Delicious!