Baked Hoisin Sauce Chicken Wings
ImPat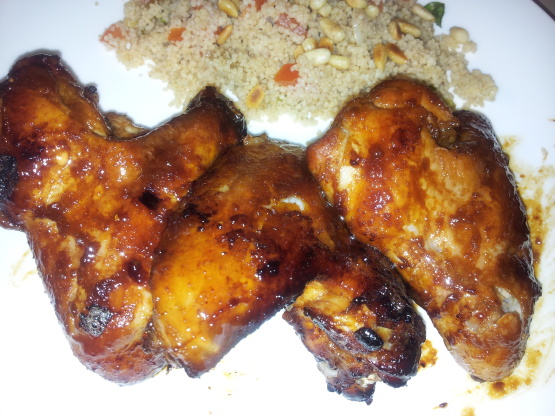 Marinade wings and bake in a hoisin sauce.

Top Review by ccdorr
I tried these tonight thinking I had a good chicken wing recipe. I don't know how the other reviewers could score this recipe with 5 stars, it is horrible! One of the worst chicken wing recipes I've tasted. I had to broil them twice as long as the recipe calls for and the pan was on the highest rack. I'm still looking for the Chicken Wing recipe from Leanne Chin's restaurant... the best wings I've tasted!
Preheat oven to 350°.
Marinate chicken wings for 15 minutes in a mixture of honey, hoisin sauce, water, salt, pepper, garlic, scallion, and ginger. Place chicken wings on a baking pan line with alum foil and bake for 30 minutes, brushing occasionally with marinade. Turn oven to broil and broil chicken wings five more minutes. Turn wings every two minutes to avoid burning.
To serve, transfer chicken wings to a serving platter and serve hot or at room temperature.