Baked Hoisin Chicken Buns (Cooking Light)
IngridH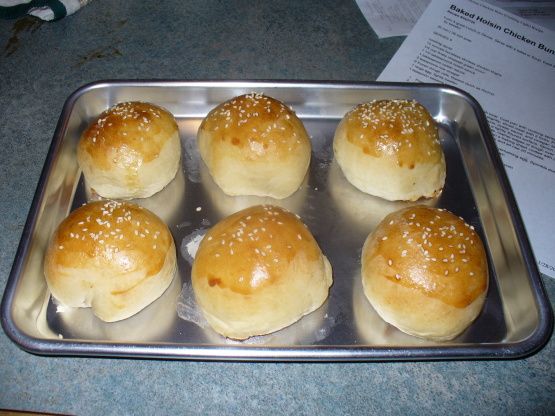 Yum! A great Lunch or Dinner. Serve with a salad or Soup. Each Bun only has about 150 calories.

We enjoyed these buns for dinner with a spinach salad with an asian vinagrette. The nine buns served four adults. Next time I might add shredded carrot, chopped red pepper and/or some ginger to add a bit more flavor to the filling. Thank you for posting. Made for PRMR.
Preparation.
Heat a nonstick skillet over medium-high heat. Coat pan with cooking spray. Add chicken; cook 4 minutes on each side or until done. Cool slightly; shred meat with 2 forks. Place chicken in a medium bowl. Add green onions, hoisin sauce, oyster sauce, and vinegar; toss well to combine.
Roll each dough piece into a 4-inch circle on a lightly floured surface. Spoon about 2 tablespoons chicken mixture into center of each dough circle. Gather edges of dough over filling; pinch to seal. Place the filled dough, seam sides down, on a baking sheet coated with cooking spray. Lightly coat filled dough with cooking spray. Cover and let rise 20 minutes.
Preheat oven to 375°.
Uncover filled dough. Gently brush with egg; discard remaining egg. Sprinkle evenly with sesame seeds. Bake at 375° for 15 minutes or until golden brown.