Baked Herb-Crusted Chicken Breasts
PaulaG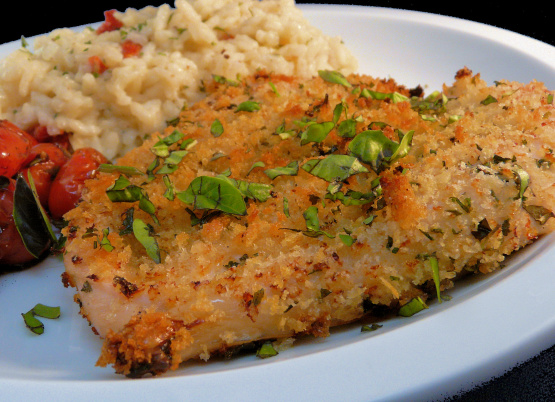 I found this in Bon Apetit magazine a few months ago. We love it. Note: the prep time includes marinating time.

We just finished eating this dish, and loved it. After 1 hour the lemon juice was starting to "cook" the chicken flesh, so don't leave it any longer. I cheated a bit and patted the fillets dry, then layed them on the baking tray, brushed the exposed side with oil and patted the crumb and herb mix thickly on that side only. This made them quick and easy to cook and serve-no trouble with crumbs falling off. We ate these with wedges and a salad and if I could give this lemony, herby, easy, low fat dish a ten I would!
Using meat mallet, pound chicken breasts between sheets of plastic wrap to 1/2- 3/4 inch thickness.
Arrange chicken in 15 X 10 X 2 inch glass baking dish.
Pour lemon juice over.
Cover and refrigerate 1 hour.
Remove chicken from dish and pat dry with paper towels.
Preheat oven to 450.
Melt butter with oil in small saucepan over medium heat; cool slightly.
Mix breadcrumbs, basil, parsley, rosemary, salt and pepper in pie dish.
Brush chicken breasts on both sides with with melted butter mixture.
Coat chicken on both sides with breadcrumb mixture.
Place chicken on baking sheet.
Bake, uncovered, until chicken is cooked through and breadcrumbs are golden, about 20 minutes.
(Test to make sure) Transfer to plates and dress with lemon wedges.