Kats Mom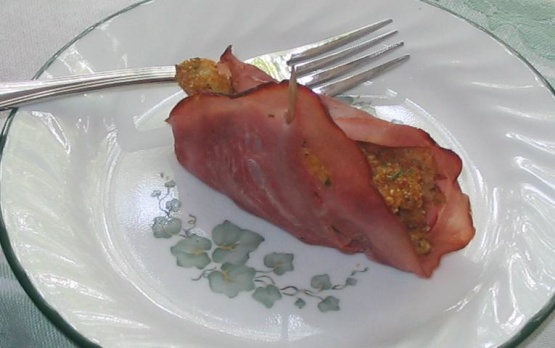 Continuing my happy trip thru THE BEST OF COOKING by Arne Kruger & Annette Wolter, I ran across this so easy to fix recipe that I see as a great way to use leftover ham when it starts to get a bit boring for everyone. Part of the appeal here is that it can be made ahead & popped in the oven for an evening meal or even made & frozen for later use when the ham boredom lessens. Its versatility gets high marks as well as it can become part of a breakfast or lunch & is very portable for all the *TO GO* occasions. *Enjoy*

I love ham, and hoped to love this. I found the nutmeg a bit too strong for my preferences. I think that the addition of some pineapple and brown sugar would probably work well with the nutmeg, but in future versions of this, I'll reduce the nutmeg a bit. This made for a quick and easy lunch. Thanks for sharing! Made for Football Tag!
Preheat oven to 350°F (180°C).
Toast bread slices & place in a mixing bowl. Cover w/the beaten eggs & leave to soak for 3 minutes.
Add the remaining ingredients (except the ham) & stir till well-mixed.
Spread out the ham slices & cover thickly w/the bread mixture. Roll up & secure w/a wooden cocktail stick or skewers as needed.
Place in a greased ovenproof dish, cover & bake for 20 minutes. Serve immediately.
NOTE: I haven't made this & it sounds good to me as is, but whatcha think about putting well-drained crushed pineapple atop the ham rolls, maybe mixed w/a bit of maple syrup or sprinkled w/brown sugar?