Baked Ham and Cheese in a Mashed Potato Crust
Parsley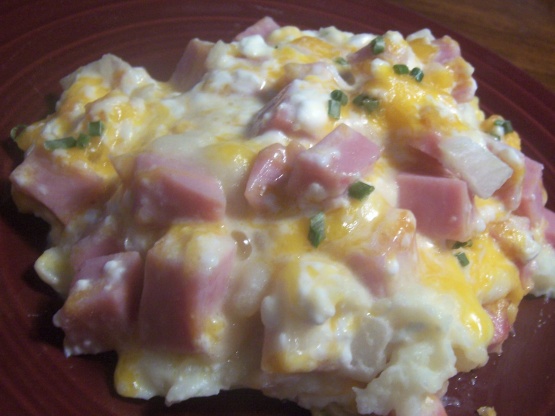 Lifted off another recipe website (can't remember which one) when I was looking for low-fat recipes to make. It involves many of my favorite things all together in one dish.

Easy to make (even making potatoes from scratch) and tastes great. I used half white potatoes and half yams. Forgot the mustard. Used ricotta cheese instead of cottage, but next time will try 1 C instead of 1/2 C, as it was too pasty and hard to spread evenly. Used shredded cheddar cheese. In the pic there's also something green in there - onions? parsley? Two of my kids gobbled it up. The sweet potato hater would have gobbled it up had I made it exactly to recipe :) Unfortunately, we only have ham once a year at Christmas, so I can make this with those leftovers.
Preheat oven to 350.
Mix mashed potatoes and mustard (personally, I prefer to leave the mustard out, but that's just me.) Spread evenly in bottom of non-stick 8x8 baking pan.
Add ham cubes in layer on top of potatoes.
In electric blender, blend cottage cheese and cheddar cheese until fairly smooth. Spread over ham.
Bake for 30 minutes.