PaulaG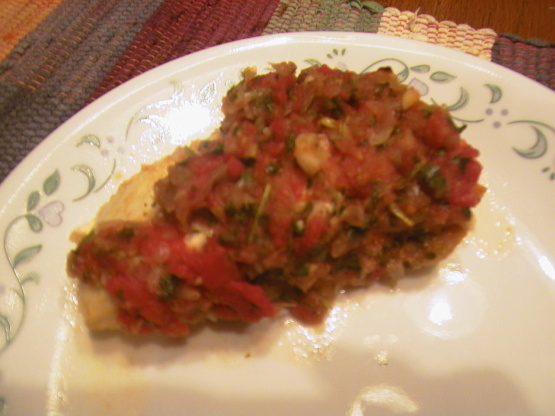 Delicious and easy way to make halibut steaks. Recipe souce: Bon Appetit (December, 1986)

A nice, quick, easy family dinner. I used 1 cup chopped yellow onions, 1/2 cup chopped green onions, and 3 cloves minced garlic. My husband and I thought it was a little heavy with parsley so will cut back on that ingredient next time. Thanks for sharing this recipe.
Preheat oven to 375-degrees F.
Spray 9x13-inch baking dish with non stick cooking spray.
Heat oil in skillet over medium heat. Add onions and cook for 8- 10 minutes.
Add green onions, parsley, garlic and tomato sauce. Continue cooking over medium low for 5 minutes.
Season fish with salt and pepper. Place in prepared pan.
Pour sauce over fish.
Bake for 20-30 minutes or until fish is cooked through.