Baked Green Olives in Spicy Cheese Pastry
Pellerin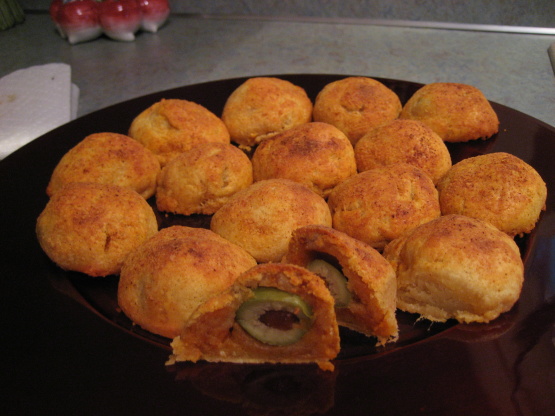 GREAT appetizer. Sounds strange, but have never had any left-overs and many rave reviews at parties. When I'm on my last legs, THIS (and either Muffaletta or Monte Cristo sandwich) are what I want my last meal to consist of.

Closest recipe I have seen to the Olive Cheese Puffs, my father would make at Christmas time. My children ask for them now. Couple of things we do different: Use smaller olives, more of a bite size, watch the overall time in oven if smaller, leave out the cayenne & sub. salt and paprika. 10 minutes prep is a joke, consider rolling all your olives. One of the bummers about doing a smaller olive. With almost the exact same measurements as this recipe we would make 48. Enjoy.
Mix the cheese and flour, and then mix in the margarine and cayenne, working the dough with your hands if it seems dry. Form a log in plastic wrap and chill in fridge over night. You want this to be fairly dry and crumbly. Mold approximately 1 tablespoon dough around each olive. The warmth from you hands will help keep it together. Bake at 400° for about 20 minutes or until golden. Serve hot, warm, or cold. (I prefer them hot ;-).