Baked Green Beans With Mushrooms & Pine Nuts
Derf2440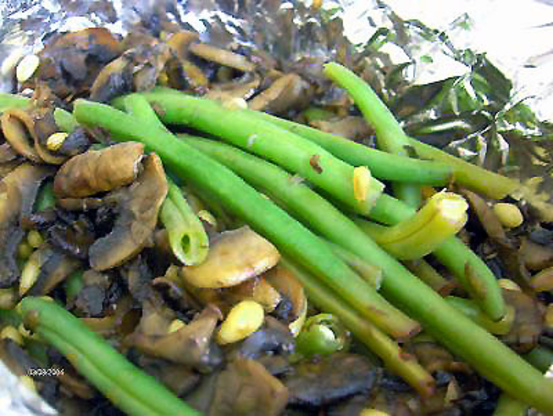 This is a great do ahead recipe - get it ready put it in the fridge and 30 minutes before dinner pop it in the oven. I like my beans al dente, so adjust your timing accordingly; 30 minutes produces an extra crisp bean. If you like your veggie well cooked allow up to an extra 20 minutes

Absolutely delicious! The deceptively simple combination of ingredients turned out excellent. I had neither madeira nor medium sherry available today, so I used a Chardonnay and it turned out great. This is a gorgeous, elegant looking and very tasty side dish. 20 minutes in the oven was perfect for me.
Sauté the mushrooms & shallots in the oil (butter) for a minute or two, sprinkle in the thyme Line a baking dish with foil (use enough so you will be able to close over top of the beans).
Pour the Madeira into the bottom of the foil lined dish, add beans, top with mushroom mixture.
Seal the foil.
Bake in 375°F oven for approx 30 minutes (adjust time to your liking of crispness). Open foil and sprinkle with toasted pine nuts.