Baked Golden Syrup Dumplings
Tisme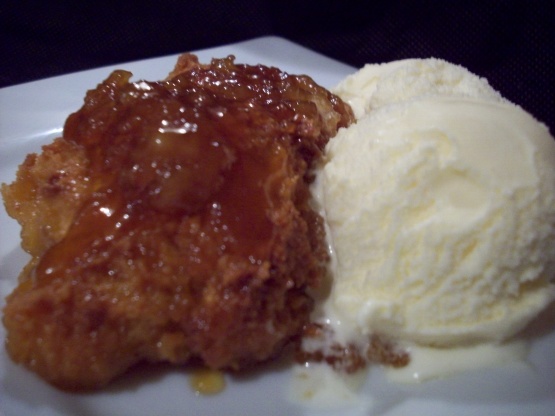 Baked Golden Syrup Dumplings from "Cookery the Australian Way". Great for a cold night.

This were absolutely divine. I could have eaten the entire dish! As suggested by the recipe poster, I served this with a big of (Bird's) custard on top which was very nice. Oh - they were just the most delicious things I have ever tried. The measurements are very accurate and I made no substitutions - everything worked out just as described. Don't worry when you are mixing up the batter if it looks like there is hardly anything in your bowl - the dumplings grow huge upon baking and start out very, very small. I was worried at first about the large quantity of liquid that gets poured over the batter before baking - but never fear, the amount is perfect - as the dumplings grow, they absorb most of the rich,sweet syrup sauce and it comes out just wonderful. One note: I did set my pie plate on top of a rimmed baking sheet to catch any drips.
Sift flour and salt, beat egg, add milk.
Rub butter into flour, add liquid and mix into a soft dough.
Place ingredients for syrup into a saucepan, stir until sugar is dissolved and bring to the boil.
Place tablespoons of dough into pie dish.
Pour syrup over dumplings and bake in oven for 25 minutes at 375F degrees.
Serve with custard, cream, or icecream (or all of these!).