Baked Garlic Lemon Butter Shrimp
Chef LLC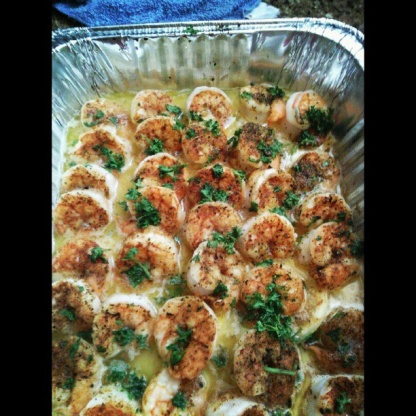 Baked version of garlic lemon butter shrimp - the oven cooks more evenly and slowly, reducing the risk of over cooking the shrimp! Lots of great buttery garlicy sauce for serving over pasta and/or with a crusty bread for sopping.
Preheat the oven to 375.
Run the shrimp under water just until they come apart - no need to thaw completely.
In a food processor, combine butter (cut into a few cubes), garlic, salt, parsley, red pepper flakes and the juice of the lemon. Pulse a few times until the mixture resembles gravel.
Toss shrimp in the seasoned butter mix. Spread onto a baking sheet and bake until the shrimp is opaque (10 minutes or so, depending on the size of the shrimp).
Serve as is as an appetizer, or over cooked pasta for a main dish.