Baked Garlic, Basil and Camembert Stuffed Chicken Breasts
Obag6142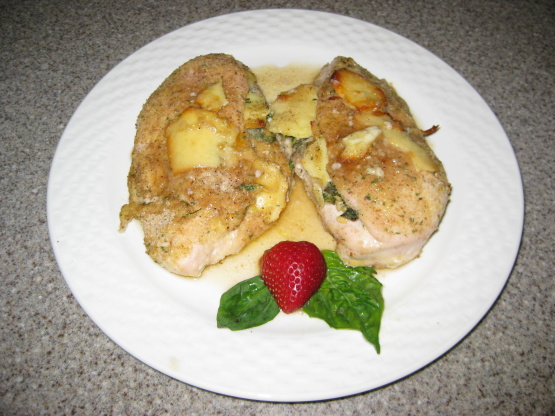 I have based this on my Easy Garlic and Basil Stuffed Chicken Breasts as a variation. I used panko but you could use plain dried breadcrumbs. This recipe can easily be doubled.

I made this on the weekend for a dinner party we had and my husband said its a keeper...which is the highest rating you can get for me! It was simply delicious. The only addition I made was an extra quarter of a cup of wine, making it half a cup that was poured over the chicken breasts and also I used seasoned breadcrumbs instead of Panko. A recipe that I will make again and again. I served it with caesar salad and warm crusty bread and the entire meal was demolished by all. Thanks for an awesome recipe.
Preheat oven to 180'C/350-375'F.
Mix together the chopped basil, garlic and butter.
Cut a deep cut along each chicken breast to make a pocket.
Fill pockets with mixture and then place camenbert slices of top, pressing in well.
Dust with a little flour and dip into the beaten egg.
Add salt and pepper to the panko and stir.
Roll breasts in the panko mix covering them well.
At this stage you can either place in fridge for 30 minutes to set the crumbs or start cooking by placing the breasts in a greased or sprayed baking dish.
Place in oven and bake for 15mins.
Pour over the wine and continue baking for another 15 minutes or until lightly browned and cooked through.