Derf2440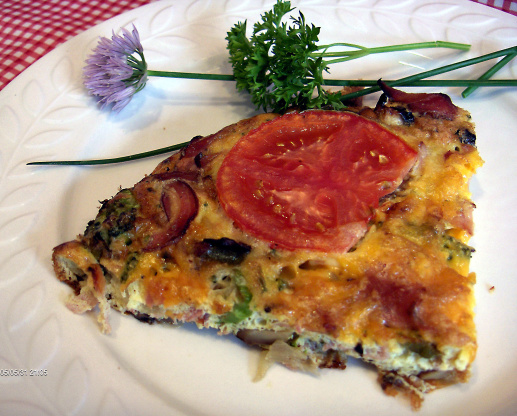 If you want to use the tomato, look for a roma plum tomato at the grocery store; it's perfect. This is a great lunch or supper for one person, and the recipe easily doubles too.

This was a wonderful start. I never had made a fritatta before. The first time I made it in a regular pie plate but it came out too thin. So I went on Amazon and found mini pie plates that ended up making the perfect size. This morning I used two large eggs with a couple of teaspoons of milk mixed in: a little ground sea salt and pepper into the eggs. I sauteed in butter, a few sliced mushrooms, a little red onion and green onions, a leftover cooked sausage patty crumbled and a few cooked leftover diced potatoes as that is what I had. Next time, I will use more veggies like diced tomatoes and spinach or kale. As a reminder, don't forget to grease your baking dish. I used coconut oil spray.
Note that just about everything here is optional.
Use vegetables you like.
Use the kind of cheese you like.
And if you don't have leftover boiled potatoes, don't sweat it.
The dish will just be a little less hearty.
Preheat oven to 350F degrees.
Spray a pie plate with Pam.
Beat eggs in a fairly large bowl.
Meanwhile, heat butter (or cooking oil, but butter tastes better) in a skillet and saute the veggies of your choice along with the garlic.
When tender, scrape into the beaten eggs.
Add the parsley, cheese (try swiss for a change, or even mozzarella) and seasonings and stir.
Pour into prepared pie plate and bake for 20-25 minutes until set.
Let stand for two minutes, then cut into wedges and enjoy.