V.A.718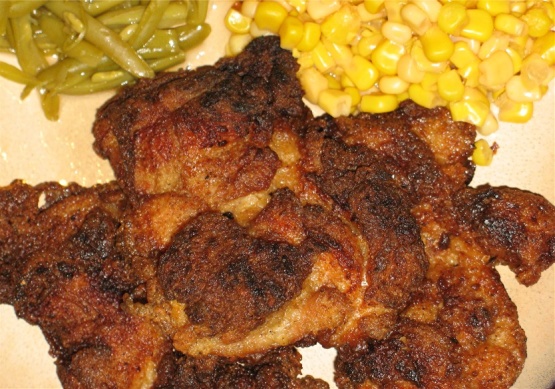 This is just a variation of the way my dad used to make fried chicken. Frying at high temperature for a short period of time (just enough to brown the outside) and then baking it to finish makes for incredibly tender and juicy chicken.
This recipe was really tender and crispy, but the old bay seasoning seemed to overpower it to me, will try again but cut back on the old bay. Thanks Rumdrinker25....
3⁄4 cup flour
1⁄4 cup seasoned bread crumbs

2

tablespoons Old Bay Seasoning
1⁄2 teaspoon salt
1⁄4 teaspoon pepper

1 -2

lb frying chicken (Skin on!)
oil (for frying)
Heat oil on medium high heat in large skillet or frying pan (375 degrees).
Preheat oven to 300 degrees.
Combine dry ingredients.
Moisten chicken pieces with water (if necessary).
Dredge chicken in flour and crumb mixture.
Quickly fry chicken on all sides until browned and crisp.
Place in covered baking dish and bake at 300 degrees for 30 minutes.
Remove cover and bake additional 20-30 minutes to re-crisp chicken, serve.