gailanng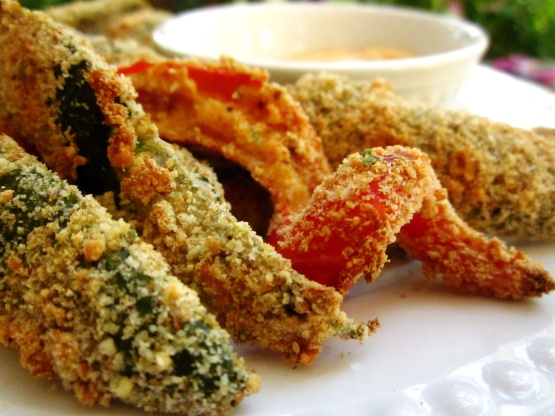 This is from Rachael Ray's show 30 Minute Meals. Sounds good!!

I threw in a couple of cayennes and believe me, I think my taste buds were irrevocable damaged from the lighter fluid-like results of those hot babies. Anyway, the poblanos and jalapenos were marvelous and only whet my appetite for more. Made for A-NZ Reunion Recipe Tag.
Preheat oven to 400. Remove seeds from peppers and cut in 1/2 inch lengthwise strips.
Set up a breading station: 1 pan of 1 cup of flour; 1 pan of beaten eggs with milk, 2 tbsp flour and mustard; and 1 pan of breadcrumbs seasoned with cheese, garlic powder, cajun seasoning and salt and pepper.
Coat the peppers in the flour, then in the egg mixture and then in breadcrumbs. Arrange the chili fries on nonstick baking sheet and roast for 18 minutes, turning once.
Remove from oven and serve.