Baked French Toast With Pecans
twissis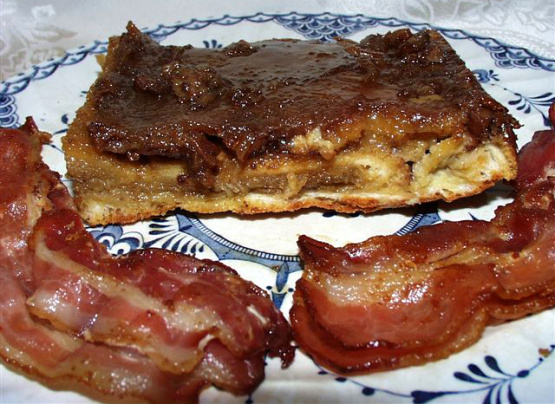 This dish is assembled a day ahead so the buttery sauce can soak into the bread. From Bon Appetit.

Top Review by davies
Compared to other baked French toast recipes, this one only ranks two stars. With the pecans and sauce on the bottom, the pecans come out very soggy and unappetizing. Although I haven't tried this alternative yet, I suggest soaking the bread overnight without the pecans and sauce, and then pouring the sauce and sprinkling the pecans over top before cooking.
Stir butter, brown sugar and maple syrup in heavy saucepan over medium heat until melted and smooth. Pour into 9" X 13" glass baking dish. Sprinkle pecans over butter mixture.
Whisk eggs, cream, cinnamon and vanilla in large bowl to blend. Dip bread slices into egg mixture and arrange in single layer in prepared dish.
Pour remaining egg mixture over bread slices in dish. Cover with plastic wrap and refridgerate overnight.
Preheat oven to 350F/180°C Bake French toast uncovered until golden brown and puffed and knife inserted into center comes out clean, about 40 minutes.
Cut into six pieces. Serve pecan-side up with additional warm maple syrup.