Baked French Toast - Plain and Simple
Diana 2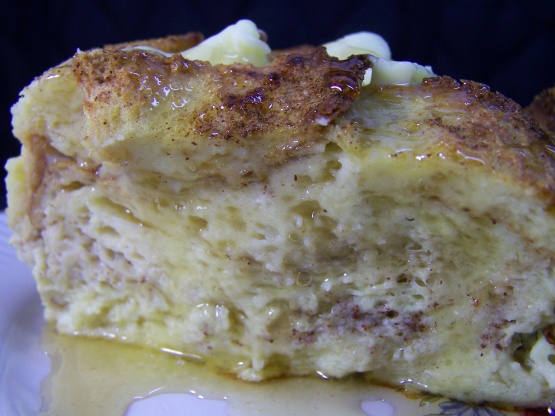 There certainly is no lack of french toast recipes here on 'Zaar. Lots of variety, and no doubt very delicious. This however is how our family likes it. Lower in fat, with no sweetener added. After all, don't most serve with butter and syrup? This makes a 9 x 13 pan, enough for serving the multitudes. Easily halved and quartered. Just remember to adjust the cooking time and the size of the baking dish.
Coat a 9x13 baking dish with cooking spray. Set aside.
Cut each bread slice into 6 pieces. It's much easier if you stack the slices first. : ) Toss into the prepared pan.
In a large bowl or jug, beat eggs, milk, vanilla and cinnamon. (if you don't have a large enough container -- simple divide the ingredients in half, and do in two batches).
Pour over the bread pieces. If you wish, you can sprinkle with additional cinnamon. Cover with plastic wrap and store in the fridge overnight.
In the morning, bake in a 375* oven for 45 - 60 minutes, or until golden and puffed.
Serve with butter and syrup, or your favourite topping.