Baked Fontina With Garlic, Olive Oil, and Thyme
momaphet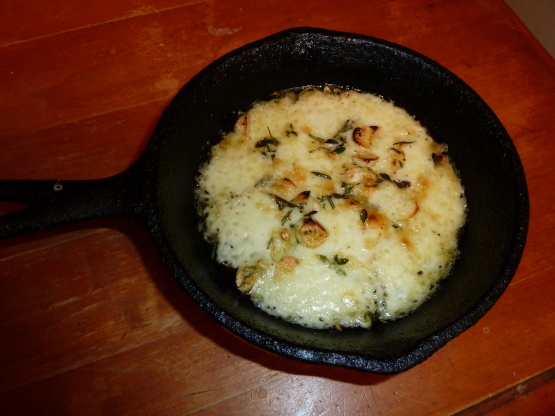 a lovely appetizer from the Red Cat Cookbook, rather like a fondue without all the paraphenalia needed..just a skillet and good crusty bread! Use italian fontina, not dutch because the dutch won't melt properly for this
1 1⁄2 lbs italian fontina, soft brown rind trimmed and discarded, cut into 1-inch dice
1⁄4 cup olive oil

6

garlic cloves, thinly sliced

1

tablespoon thyme

1

teaspoon chopped rosemary
sliced country bread or roll
Preheat the broiler.
For individual servings, divide the fontina among four 6-inch cast-iron pans.
Drizzle with olive oil and scatter the garlic, thyme, and rosemary over the cheese. Season with salt and pepper. For one large pan, use a 12-inch cast-iron skillet and follow the same directions.
Broil until the cheese is melted and bubbly, 6 to 7 minutes.
Serve each person an individual pan, setting it on a trivet or napkin, or serve from the 12-inch pan set in the center of the table, with the bread alongside for dunking.