Baked Flounder With Herbed Mayo and Vermouth
Bergy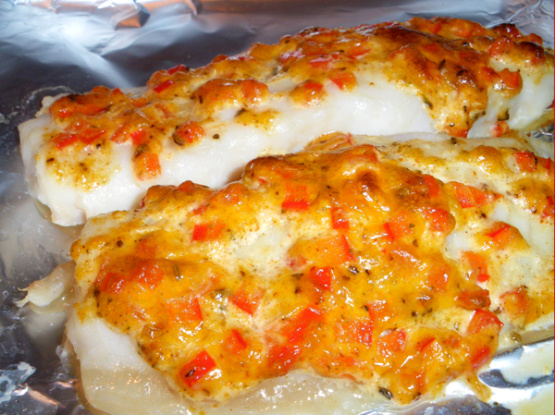 From an old cookbook submitted by someone named Brewster D. Dogget of Wiscasset, Maine. I had cut this out of the book but haven't made it yet. I make a similar fish with mayo that my mother in law gave me but this is a little different with the vermouth. I broil my fish at the end for a brief time until it just starts to brown. Hope you like this.

Top Review by Bergy
5 star all the way. I used a Basa filet and added 1/4 tsp of Pico de Gallo spice. Very tasty and easy to do. It turns a lovely golden color Thanks Oolala for posting this recipe 27 Nov 08 Made it again and enjoyed it as much as the first time. I used finely chopped red pepper instead of the pimento
Wash, pat dry, and place fish in greased baking dish (11 1/2 X 7 1/2 X 1 3/4). Fillets will overlap.
Thoroughly mix next 7 ingredients.
Spread mayo mixture on top of fish.
Pour vermouth over the fish.
Bake uncovered in a 350 degree oven for 30 minutes.