Kathy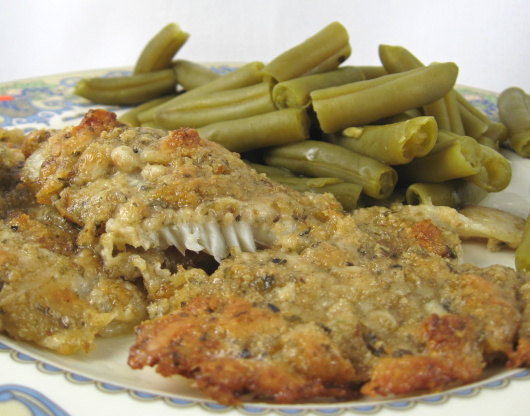 This recipe I found in Food and Wine magazine. I have tweaked some of the ingredients to suit my family's taste. It is a lovely quick way to serve flounder. You may also substitute any type of white fish as well. It comes out wonderful.

Wonderful taste-filled recipe with lots of spices and herbs. I made several changes though, Did not see need for butter and olive oil as i didnt think crumbs would adhere properly and could be make it more nutritious. To do this, I made the following changes 1)Dredged the fish with whole wheat flour, then 2)Dipped the fish in egg beaters, then 3) Pressed fish into coating mix It came out just delicious and crumb mixture stayed on beautifully I also sprayed top of fish with some butter spray and olive oil spray to make it crunchier on top. .
Preheat oven at 425°F.
Lay out fish fillets, in single layer, in greased baking dish. Set aside.
In a bowl combine garlic, Parmesan, breadcrumbs, basil, oregano and parsley. Mix together well.
Add melted butter and olive oil to crumb mixture and combine well. It will become mealy.
Sprinkle crumbs all on top of each fish fillet.
Bake for 12-15 minutes, until fish is cooked and topping is golden in color.
Remove from oven and let set for 5 minutes.
Serve.