Prep 10 mins
Cook 15 mins

Another simple, yummy recipe for cod. Please feel free to use fresh herbs in place of the dried. I usually sprinkle the top with some fresh parsley. Can also use fresh tomatoes when they are in season.
Directions
Preheat your over to 400 degrees.
Spray a baking dish with non-stick spray.
Melt butter in a pan over medium heat.
Add onion and pepper and saute until softened.
Stir in flour, brown sugar, herbs, salt and pepper to taste, and combine well.
Gradually stir in tomatoes with juice.
Bring sauce to a boil.
Keep stiring until sauce has slightly thickened.
Place fish fillets in baking dish and top with the sauce.
Place dish in oven and bake for 12-15 minutes or until fish is cooked through and flakes easily.
Reviews
Most Helpful
Ok, so I hate it when people rate a recipe low and then start telling all the things they did differently when making the recipe. This is a little different, since I made some changes and it still came out great. I added some crushed garlic with the other veggies, I added about 2 T of balsamic vinegar with the tomatoes, and I cooked the whole thing on the stove - no need for the oven on a hot summer day. Great alternative to the usual fish recipes.
I have cooked this recipe several times and always comes out perfect. I have used cod, halibut, shark, croaker, gafftop, sand trout and speckled trout. It does not matter, it will come out perfect every time. LOVE IT!!!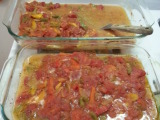 Delicious! Was looking for a healthy baked fish that is easy - this is it! Used fresh rock fish and served over rice with a green salad. I microwaved leftovers for lunch the next day which was a great bonus. Thank you so much!