Parsley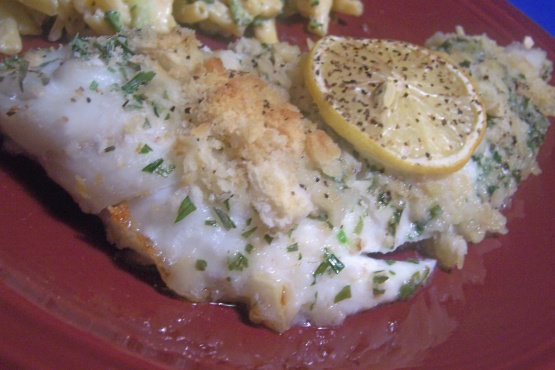 Very delicate tasting fish.

Just did this with some fresh whiting as a way of using up some of our rampant tarragon plant in the greenhouse. Highly recommended! Didn't kill the rather delicate flavour of this fish. I used brown breadcrumbs rather than Ritz, and probably quite a bit more tarragon and chives than it calls for (well, once you've picked it...), but it was still delicious. Also, I only cooked it for 15 minutes in a 170C fan oven and it was perfectly cooked. 20-30 mins would have been too much. Definitely will do this again.
1

lb white fish fillet (use your favorite)
1⁄4 cup butter, melted (DO NOT substitute with margarine)
1⁄2 cup Ritz cracker, crushed

1

tablespoon tarragon
1⁄2 teaspoon chives
sliced lemon
Preheat oven to 350°F.
Place lemon slices on bottom of large baking pan.
Place fish on top of lemons.
Pour melted butter over vish.
Sprinkle with chives and tarragon.
Cover with crushed crackers.
Salt and pepper to taste.
Bake for 20-30 minutes or until fish is done.