Baked Fish with Orange Sauce
Boomette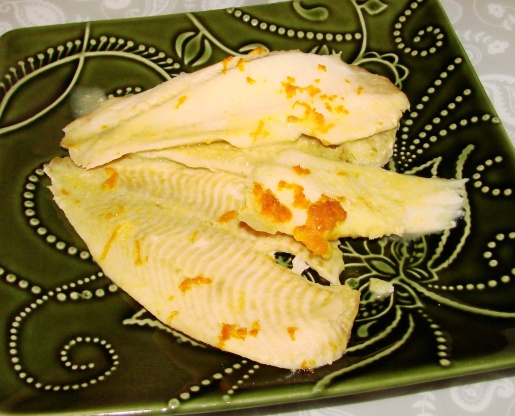 The orange sauce really gives this fish a refreshing taste. An added touch could be slivered almonds.

Loved this recipe; it was quick and delicious! I live in South FL so we don't use our oven and instead use a grill. Therefore, I made the sauce on the Stovetop by squeezin 4 "cuties" into a saute pan adding the butter and peel. Adding at the end the parsley and a few orange segments. Set aside while cooking the fish. I prepped the fish, fresh Haddock - skin on, by sprinkling with lemon pepper and a dash of everglades spice. Grill a few minutes each side. Plate the fish with veggies ( I grilled asperagus just before the fish) and top with the orange/butter reduction and serve. Simple, Delicious and quick!
2

lbs white fish fillets, cut in portions
1⁄2 cup orange juice

3

tablespoons butter, melted

1

teaspoon grated orange rind
1⁄2 teaspoon parsley
Preheat oven to 400F degrees.
Place fish in baking pan.
Mix orange juice and butter.
Pour half this mixture over the fish.
Sprinkle the rind over.
Bake for 10 minutes.
Pour remaining orange mixture over.
Bake another 10 minutes.
Sprinkle with parsley.