Baked Fish With Artichoke Crumb Topping
ChefLee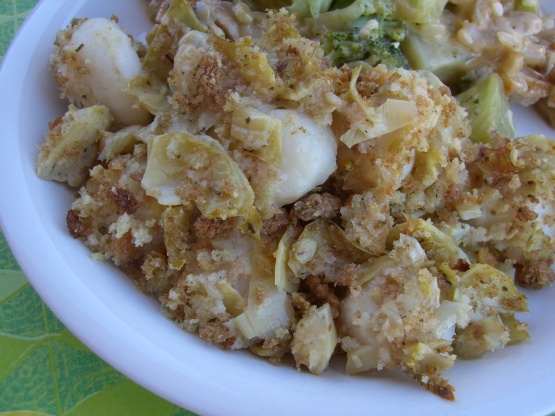 This recipe is by Meghan Pembleton.

I really enjoyed this. Made it with perch. I used a 12 oz. jar of marinated artichoke hearts. My zester makes long strips, so I chopped up my lemon zest. This was a very quick, tasty, healthy meal.
Preheat oven to 425 degrees.
Place butter in a medium, microwave-safe dish and microwave on high until melted, about 1 minute.
Grate zest from lemon; add to butter bowl.
Drain and finely chop artichoke hearts; stir into butter.
Finely crush stuffing mix with your hands as you add it to the butter bowl.
Lightly coat a baking sheet with olive oil. Place fish on pan.
Spoon crumb topping onto fish. Bake until fish is flaky (13 to 15 minutes for the frozen, boxed fillets).