Baked Fish in Mayonnaise and Mustard
Bobtail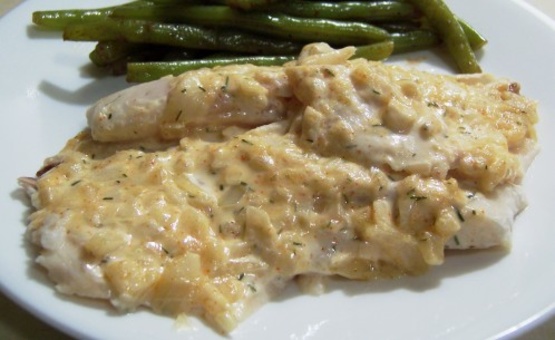 An old recipe I have in my fish collection that's simple, fast and tasty. I've also used this with Walleye and Bass fillets.

Top Review by Bergy
This recipe produces a lovely moist, flavorful piece of fish - It is definately a "do again". I used Chilean Sea Bass, mixed the mayo etc in the am, let the flavors blend, Spread it on the fish just before popping it in the oven. It came out golden with the onion bits accentuating the color. Great flavor, not sharp but mellow. Clear easy instructions Thanks Chuck for a winner
Preheat oven to 400°.
Place fish in lightly greased shallow baking dish.
Stir mayonnaise, mustard, onion, cayenne and dill weed in a small bowl until blended.
Spread mixture on the fish.
Bake at 400°F for approx 20 minutes or until fish flakes easy with a fork.