karenury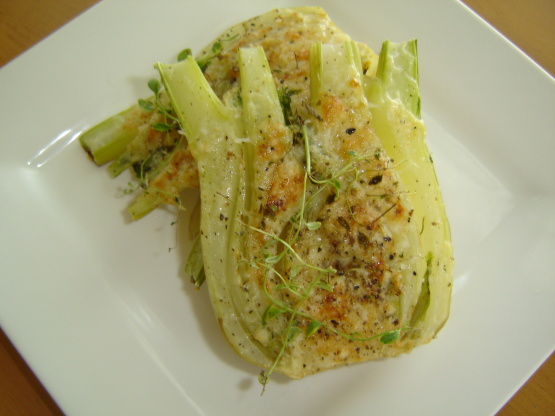 This is a light, tasty way to cook fennel. It is tender, with a crunchy outer texture and just a hint of the fennel flavor. This is a great vegetable side dish with grilled or roasted meats.

This is divine! I suspect simmering in the milk keeps the fennel nice and white and makes it extra tender. For those who love the taste of fennel this is a must- try!!!
Preheat the oven to 450 degrees.
Clean the fennel, removing the upper fronds, and slice lengthwise into 1/2 inch slices.
Set the feathery leaves aside to garnish the completed dish.
Place in a saucepan and cover with milk.
Simmer for about 10 minutes or until the fennel can be easily pierced with a fork.
Remove the fennel and pat dry.
Layer in a baking dish, drizzle with two tablespoons of the oil and add salt and pepper.
Bake for about 20 minutes.
Mix the remaining oil with the cheese and breadcrumbs, and sprinkle over the dish and continue baking until golden brown.
This dish is great hot or at room temperature.
Use the discarded feathery fronds to garnish, and serve.