Baked Eggs With Feta and Tomatoes
Derf2440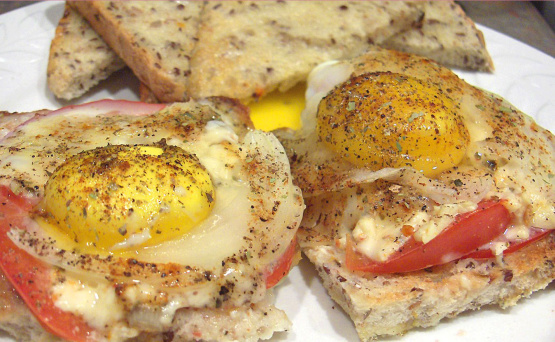 Found this recipe when looking for verdelho wine food suggestions.

OK...this IS a great, easy dish, TRUE! Would definately make again too! HOWEVER, after even 20 minutes whites were not baked enough for me! Under griller for additional 5 - 8 minutes this plate did see! I also like yolks hard, hubby soft too! So cracked yolk on mine when it started to settle too! Think 3 tomatoes could have been two, Also done with say 100 grams of feta, but maybe is personal taste, TRUE! I did make them in bowls separately, Was wondering if I put them in Pyrex casserole this next time...we'll see! THANKS! Hubby also added splash of worchester sauce too! :)
Brush two 18cm shallow ovenproof bowls or plates with a little olive oil.
Place 1 slice of toast in each bowl.
Place tomato slices, slightly overlapping, in a circle around toast.
Top with feta, then carefully crack an egg over the top of each.
Scatter eggs with oregano, onion, paprika and cracked black pepper to taste, then drizzle with a little olive oil.
Bake at 180C for 12-15 minutes or until egg whites are set but yolks remain runny.
Serve immediately with remaining toasted bread.