Mika G.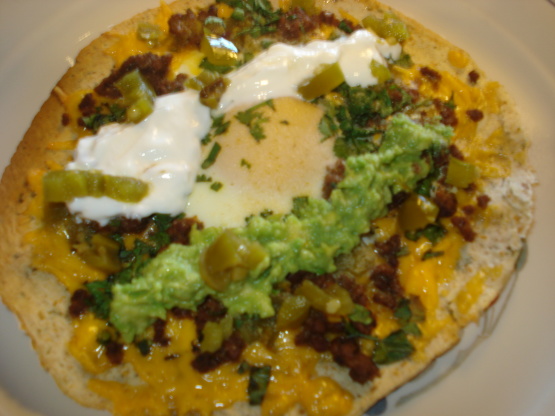 My husband heard this on TV years ago, we tried it and we all loved it!! Watch them closely to keep the tortilla from getting too brown and crunchy. Cook time is approximate. Servings according to what you need

How fun! We put Turkey bacon, guacamole, sour cream, cilantro, and salsa on ours and ate it like a taco. It was awesome!!!! We cut up the turkey bacon right out of the package and it cooked on top right along with the egg. So easy! Thanks for a great weekend breakfast! UPDATE: 1/31/09 We have used this recipe often. I submitted another photo, this time using leftover Nacho fixings including taco meat. We love that you can put anything on these eggs and they come out so yummy! Thanks again for a great recipe.
Depending on size of tortilla used, break 1-2 eggs into center of tortilla.
Salt and pepper egg (s) Sprinkle Cheddar all around outer edge of tortilla.
Bake at 350 until egg is set as desired.