Baked Eggs on a Bed of Potatoes With Bacon
Rita1652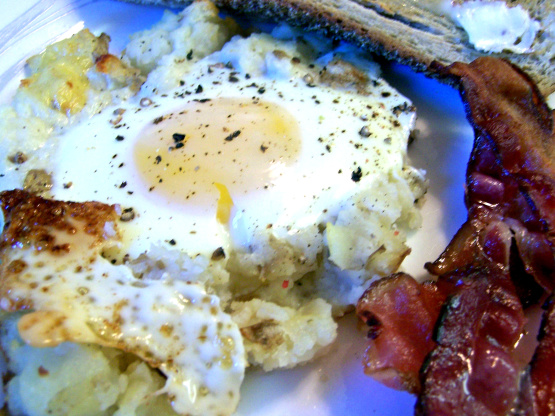 I used leftover mashed potatoes that had cheese in it for a nice extra.

Yummy breakfast, and with leftovers quick and easy too! My potatoes had a little cheddar and sour cream in them. I made a single serving in an individual ramekin, and I put ready-to-eat bacon strips around the inside edge before putting in the potatoes and eggs, so everything was cooked together. Very nice - thanks for sharing the recipe! Made for ZWT6, Zwizzle Chicks
Preheat oven to 325 degrees Fahrenheit.
On a cookie sheet pan place strips of bacon and bake until crisp.
Meanwhile heat potatoes in microwave oven for 1 or 2 minutes.
Remove bacon set aside. Drain the fat and discard, leaving just a touch.
Place potatoes on pan and make small indents with the back of a spoon.
Crack eggs into each indent.
Season to taste with salt and pepper.
Bake until eggs are to desired doneness.
Carefully place on plates.
Serve with the bacon.