Baked Eggs & Kale Parmesan (Frittata)
MA HIKER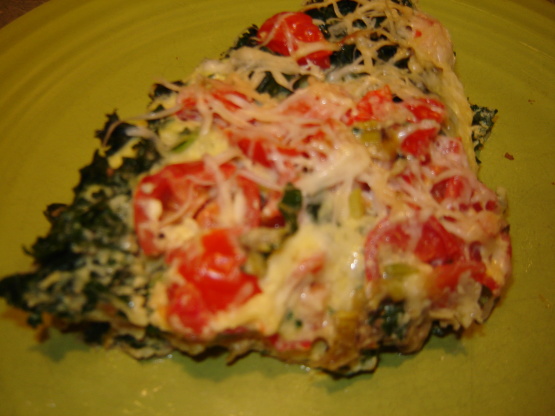 Straddling the line between frittata and casserole, this dish is as perfect for dinner as it is for brunch! It's packed with protein and calcium, and best of all, it's quick and easy. If you need to substitute a different type of green vegetable, try swiss chard - Spinach releases too much liquid to work well in this recipe.
Top Review by Andrea
This was really good, Next time though I would add the whole leek, maybe some a half of an onion. I Didn't use the almond meal (didn't have it on hand) but I used an extra egg and had to cook it an extra 15 minutes because it was still runny. Other than that it was very delicious!
Preheat the oven to 375°F.
Add oil to a 8 or 10 inch cast iron pan. Heat oil over medium heat. Add leeks and sauté until the leeks begin to brown. Spread leeks evenly around the bottom of the pan and remove from heat.
Wash and remove stems from kale, and chop roughly. Bring 1-2 quarts of water to a rolling boil in a pot, then add a tablespoon of sea salt. Submerge chard in boiling water for 1-2 minutes or until tender. Drain completely in colander.
In a bowl, beat 6 eggs thoroughly.
Line cast iron pan with an even layer of kale (on top of the evenly spread leeks). Sprinkle chopped tomatoes on top of kale. Add a generous amount of ground black pepper. Then pour beaten eggs over the vegetables (use a spoon to make sure the egg mixture spreads all the way to the outer edge of the pan). Spread grated cheese evenly over the eggs, and then top with almond meal. Do NOT stir ingredients to combine.
Bake for 15-18 minutes or until eggs are firmly set. Place under the broiler for 1 minute or until the almond meal begins to brown in spots. Slice and serve.