Baked Eggs in Zucchini (The Vegetarian Epicure)
BarbryT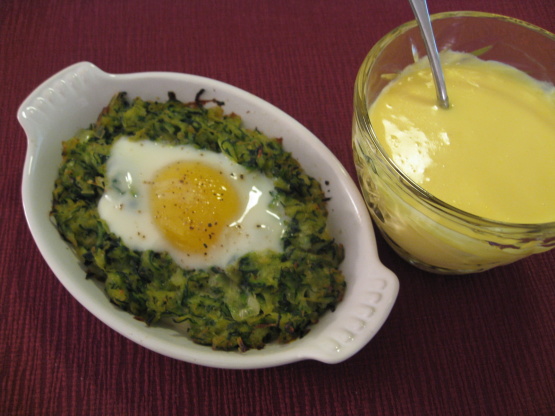 A little labor-intensive, especially if serving topped by a sauce, but just delicious. Hollandaise, Mornay, Bearnaise all are possibilities.

I love eggs and have made many omelets filled with veggies like onions, peppers, tomatoes, asparagus, and spinach. This is my first time combining eggs and zucchini. I enjoyed this egg dish much more than an omelet because, unlike an omelet, baking the eggs preserves the creaminess of their yolks. Initially, four pounds of zucchini seemed like a lot but it cooked down to a much smaller amount. Grating the zucchini with my food processor grater blade made prep so quick and easy. I added six scallions for extra onion flavor. This recipe is very versatile. Instead of six servings for breakfast, I made two servings for lunch with three eggs per person. I prefer it without a sauce, but if I were entertaining company, I love the hollandaise option for a refined flair. Likewise, a selection of toppings like cheddar or parmesan cheese, sour cream, salsa or marinara would offer low effort options. Thank you, BarbryT, for a delicious recipe with a sophisticated presentation!
Take 6 large eggs from frig to bring to room temperature.
Preheat oven to 350 degrees F.
Wash zucchini. Coarsely grate them. Toss zucchini shreds with 2 t salt and let it rest for 5 to 10 minutes.
Take handfuls, squeezing gently to remove all excess water and pile on paper towels to drain.
Heat the butter and olive oil in a large skillet over medium heat. Add the chopped scallion. Sauté until almost tender. Turn heat to medium high; add zucchini and some freshly ground pepper and sauté for 8 to 10 minutes, stirring almost constantly. Remove from heat.
To serve as a starter, butter 6 small individual casseroles or ramekins. Divide the zucchini among them and make a shallow hollow in the center of each one. (If it is meant as a main dish, use slightly larger oval oven-safe dishes and make two hollows in each.).
15 to 20 minutes before you want to serve, break one egg carefully into each little hollow. Sprinkle the eggs with a little salt and pepper. Bake them for about 15 minutes at 350°F.
The white should be completely set and the yolk still a little soft inside.
If upgrading the dish :-) by using hollandaise or another sauce, spoon sauce over each egg when you take them out of the oven, and serve immediately.