ImPat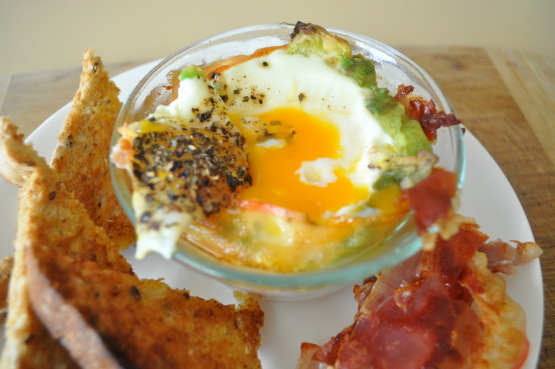 Simple and tasty for anytime, day or night. An Emril Lagasse recipe.

An excellent brunch dish that's simple to make yet tastes awesome. Thank you.
Preheat oven to 450°F Dot 2 ramekins with butter and then evenly layer in the prosciutto.
Sprinkle both with the Parmesan cheese. Scatter the avocado between the 2 ramekins, and then dot each with sour cream.
Break 2 eggs into each ramekin and then season with salt and pepper. Sprinkle with basil.
Place the ramekins in a shallow roasting pan. Pour boiling water into the pan to reach 3/4 of the way up the ramekins.
Place in the oven and bake until the egg whites are milky and the yolks are set, about 10 to 12 minutes.
Serve immediately.