Baked Eggplant With Pesto, Parmesan, and Mozzarella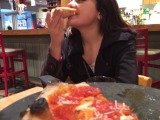 This tasty eggplant dish is the perfect side to a roasted chicken and a green salad with a lemon vinaigrette. You can either pre-grill the slices or broil them before putting the dish in the oven but either way, make sure the slices are partially cooked before baking. You may want to have a little extra wine/chicken broth mixture handy if the sauce gets too dry.
Directions
Preheat oven to 350.
Salt the eggplant slices and lay on a paper towel for 20 minutes to extract any bitter flavors.
Pat the slices dry.
Grill the slices (I use a dry grill pan on the stove top but you could also broil) until soft but not all the way done.
Heat a skillet and add 2 TBS olive oil, Saute onion, garlic, and bellpepper until soft.
Salt and pepper liberally.
Stir in the wine and chicken broth and reduce to about 1/2 Cup.
Stir in pesto and tomato paste and remove from the heat.
In a casserole dish sprinkle the remaining 1 TBS olive oil and lay one layer of eggplant slices on top.
Spread 1/3 of the sauce on the eggplant and top with 1/3 of the cheese mixture. Repeat layers.
Top with the remaining cheese.
Bake for 30-45 minutes, or until cheese is browning and bubbly and eggplant slices are soft.